Location: Regency Isle #407, Orange Beach East, Orange Beach, Alabama, USA

Accommodations: 1200 square foot Condo, 2 Bedrooms, 2 Baths (Sleeps 8)

phone:

(318) 272-0951



email:


What's so special about our Orange Beach condo?
These 8 reasons are why I hope you choose our condo over the many other choices you have. Call 318-272-0951 to book!
It has an unbeatable view. The balcony is about 25 feet wide, 15 feet deep, and looking straight at the beach. The elevation of the 4th floor provides the perfect compromise between overhead view and up-close intimacy. The condo is located right in the middle of the building so you are directly over walk that goes out to the beach.
The acoustics of the waves are unmatched. Have you ever been to the Grand Ol' Opry Ryman Auditorium in Nashville and see how acoustically perfect the building is? Well, our condo on the 4th floor is at the same angle as if you were in the Ryman. The acoustics are perfect and first encounter. The sounds of the waves come to you unobstructed. They aren't muffled by the sand on the beach like you would find on the 1st floor. They aren't full of echoes like you would find on higher floors. Watch my video of the unit, and you will see exactly what I am talking about when I go out on the balcony.
The condo is clean. We are clean people. Our cleaning crew will have the unit ready and just as clean for you as it would be for us.
It has a king size bed and sleeps 8. Big enough for a big family, our condo can comfortable sleep 8 people. In the master bedroom there is a king sized bed that has its own sliding glass door to the balcony. Bedroom #2 has a queen size bed and a full size bed, which can accommodate 4 more people. And finally, there is a queen sized pull-out sofa in the living room that can sleep 2 more.
Free Keurig coffee!. We are lovers of coffee and thought it would be really nice to share our Keurig coffee with you. Wake up in the morning, brew yourself up a fresh cup, and step outside onto the balcony.
It's not as crowded. There is something I want to point out to you. Just because some condominiums are 24 story skyscrapers does not mean they have a bigger piece of the beach. As the condo gets higher more and more people will crowd the beach in front. Our condominium is big enough to have all of the amenities you enjoy, but small enough not to overcrowd the beach.
We are the perfect place to stay no matter the season. Our condominium has an outdoor pool and hot tub as well as an indoor heated pool and hot tub. It does not matter if you stay here in spring, summer, fall, or winter. Our condo will always feel like a bona fide vacation to beautiful Orange Beach irregardless of the time of year.
I am the private owner and own only this condo. You are my main deal. You are all I have going on in Orange Beach. You will have my personal phone number and direct access to me before, during, and after your stay. I have people hired in the area and will take care of you. I will not only treat you like my only customer, you will indeed be my only customer.
Here is a live picture from one of the balcony cameras looking east: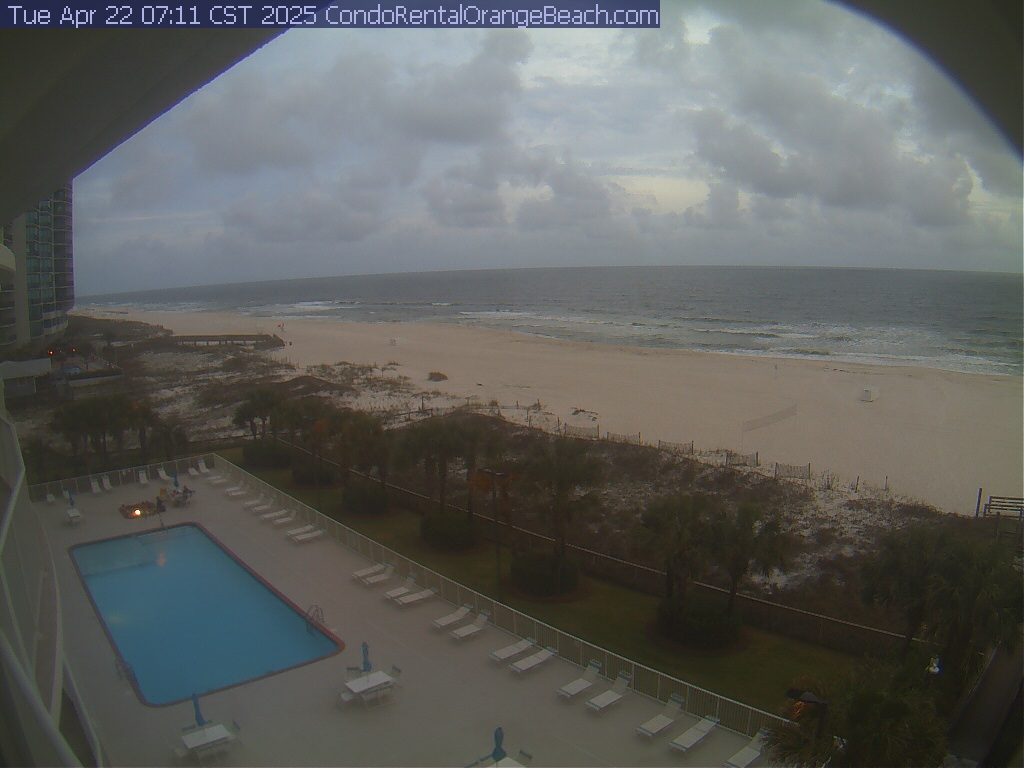 Here is a live picture from one of the balcony cameras looking west: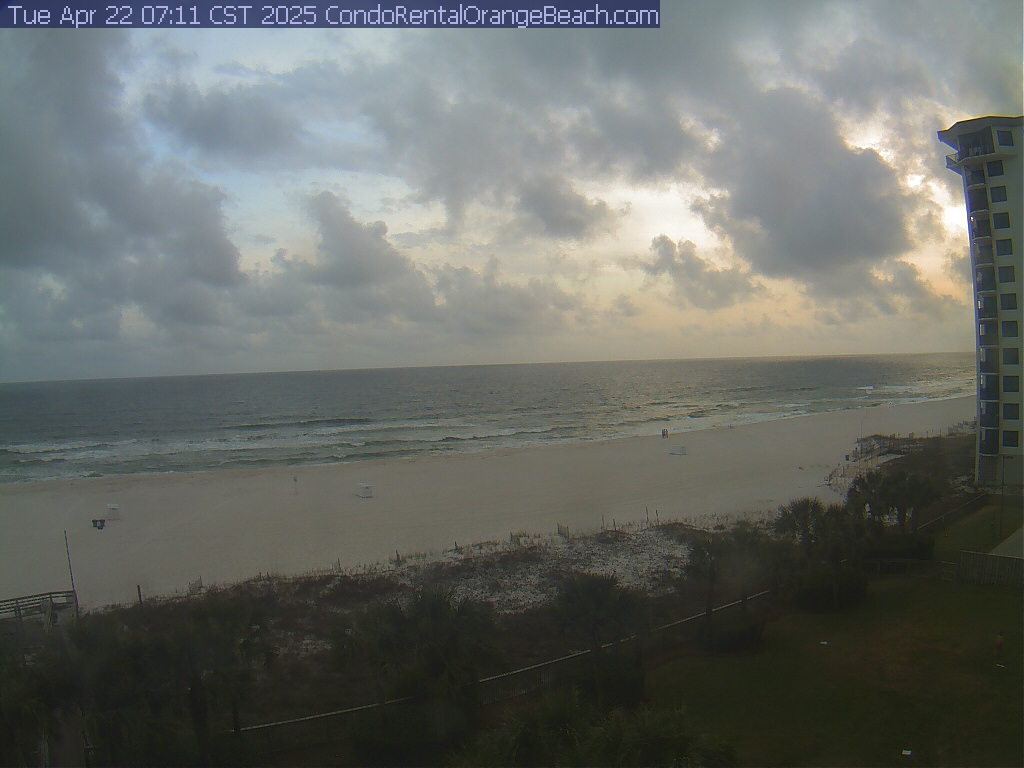 Here is a video:

And another video:

Reserve the Orange Beach Condo
Check our Availability Calendar
Here are some of my favorite reviews from some of the guests!
"Really don't know how to describe the trip other than 5 Star all the way We have been coming to gulf shores for 10 years but never stayed in a condo that could compare to this one Just Awesome is all we could say. Even though it was just me and my wife there was plenty of room for the kids if they could have made it. Hope to get to stay here again Dennis Danny & Linda"

"Dealing direct with the owner and not a rental agency or management company is definitely the way to go! Dennis was quick with his responses and extremely helpful to us. This was our first time to Orange Beach, but will definitely be going back thanks to him. We had a wonderful time at the beach and pool and found several fantastic restaurants--Cosmo's was our favorite. The condo was exactly as advertised."

"I have stayed in several places along the gulf coast, and I have to say that this was the best trip that I have ever had. The condo was clean and everything was just as advertised. The view was wonderful. We seen dolphins from the balcony every day we were there. The beach was the cleanest around without question. I could tell that great effort was put into keeping it clean. The owners were very easy to work with, and I could tell that they have put great effort into making sure your stay will be perfect. I would definitely stay here again."

"The condo was great and even nicer than expected. The kitchen was stocked with all the appliances and pans needed for dining in. The location was close to everythng, but far enough away so that you felt private. The beach was beautiful and very close. Loved the porch and the fourth floor view. Would stay there again."

"We had a wonderful beach trip, we all loved this place! It was too cold for the ocean but this place had a great heated indoor pool and hot tub. The kids could play and me and my husband relaxed all under the same roof. We walked and made sand castles. My 4 kids loved their own room which was big enough to sleep them all so me and my husband had the King bed all to ourselves. The porches are huge and it was so peaceful to leave the screen door open and hear the waves all night long. We will be back again this place has it all!"

"I've stayed in Orange Beach and Gulf Shores for over twenty years, and this is by far my favorite place to stay ever! Location is awesome. Condo is awesome."


Here are some Frequently Asked Questions (FAQ):
Q: Is this ocean front condo?
A: Yes, it is right smack on the ocean. You can't get any more intimate with the ocean than this location. I will post a video for all to see.
Q: Hi can you tell me if a small dog is allowed?
A: Unfortunately dogs are banned on gulf shores and orange beach. The dog will need to sit this one out, unfortunately.
Q: How is parking handled?
A: Up to two vehicles can be brought to the condo. When you win the auction I will send you 1 or two parking passes, depending on your need.


&copy 2013-2023 CondoRentalOrangeBeach.com
29348 Perdido Beach Blvd #407
Orange Beach, AL 36561
(318) 272-0951

I have a facebook page for the condo

Facebook: https://www.facebook.com/CondoRentalOrangeBeach
See what's going on around Orange Beach and Gulf Shores in our
Orange Beach blog